Back to Insights
About PAI
PAI is a national third-party administrator (TPA) with expertise in administering specialty products and employee benefit plans for nearly 300,000 covered plan members. The company was founded in 1981 with a focus on self-funded plans for companies predominantly located in South Carolina. In 1984, PAI became a wholly owned subsidiary of the state's leading health insurer, a relationship that has allowed PAI to build its best-in-class service and expand into new markets.
In 2004, PAI entered the limited benefits market administering  benefits that meets  the needs of a range of employers with part-time and hourly workers, including the hospitality and temporary staffing sectors.
The expertise and reputation PAI developed with limited benefits led to yet more opportunities. In 2013, PAI became the  administrator for two national insurance carriers offering additional voluntary products  including critical illness, accident, and hospital indemnity products. Its limited benefits division evolved into a new division called Specialty Products and Administrative Services.
Understanding that managing exposure needs to go beyond the limits of traditional health and wellness benefits -- and capitalizing on a unique opportunity -- PAI expanded its offering through a merger with Companion TPA (CTPA) in 2015.  CTPA had been an administrator of property and casualty products since 1999, including Workers' Compensation, Commercial Auto and Property, and General Liability.
In 2015, PAI launched Affordable Care Act (ACA) compliant plans to accommodate large group employer federal mandates. Today, these plans include both self-funded and fully-insured options that help these employers meet their federal mandates.
PAI joined forces with sister TPA, Thomas H. Cooper & Co., Inc. (TCCBA) in 2021. TCCBA was established in 1972 and offered unique solutions to niche segments of the self-funded market. Also in 2021 PAI started the Blue Solutions subsidiary in order to better serve large groups based out of South Carolina who also have employees living out of state. 
PAI Partnered with ProActive MD to launch Proactive Total Care in January 2023.  This partnership allows ProActive MD primary care providers to refer patients to the best quality, most cost effective specialists in multiple health systems. ProActive MD will provide annual wellness visits, preventive care, onsite dispensing and medication refills, laboratory services, same-day sick appointments, minor in-office procedures, and coordination of care and bi-directional data.
In 2023, PAI was selected to administer a dental plan by one of the largest national carriers  in the northwest. This multiyear contract includes more than 25,000 subscribers  and proves PAIs flexibility and agility to meet any customer needs.
PAI's provides hands-on customer service through regular communications, an assigned account executive, and highly trained customer service team. Each client gets a PAI service team of professionals who are committed to a smooth, successful launch of your benefit plans or products. Our account executives serve as a single point of contact to ensure all bases are covered, from communications to enrollment to fulfillment and billing. Your PAI team supports your plan daily, not simply through the open enrollment.  
PAI is a service organization that brings a high level of quality and value to both the group and the covered employee. PAI offers some of the most current, reputable products available; but the true test of value is what happens when a covered plan member calls in with a question, or a group has multiple needs but limited HR resources. PAI focuses on the customer experience, fast, accurate claims payment, and continually bringing value to our groups.
Today, PAI's clients can select from a wide variety of health insurance solutions, including self-funded plans, level funded plans, limited benefits, property and casualty, and ancillary products including dental, vision, life, short-term disability, critical illness and supplemental accident.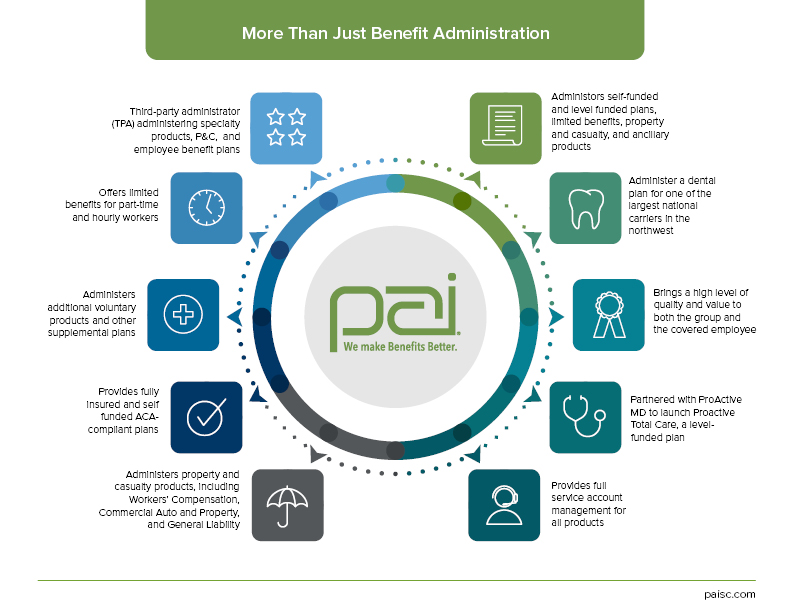 Contact Us
Learn more about what PAI offers.